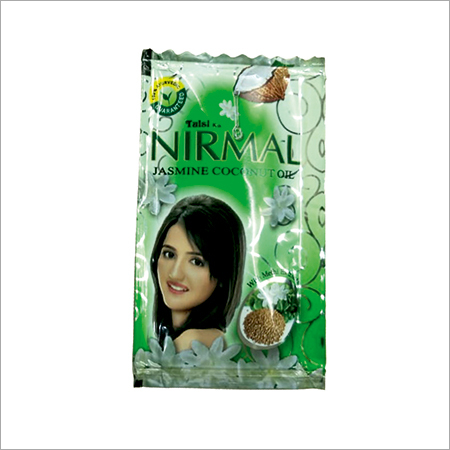 Coconut Jasmine Oil Pouch
Product Code : 04
Product Description
M. M. Ayurvedic (P) Ltd located in Kolkata, West Bengal, India is one of the industry known as the manufacturer, supplier and exporter in the domain of Coconut Jasmine Oil Pouch. The range of offered oil is processed using the purified extracts of jasmine and coconut in hygienic environment at our developed processing technology. The provided oil is commonly used for reducing hair fall with enhancing the growth and shine of hair. This Coconut Jasmine Hair Oil Pouch is available in various packing options for clients at marginal prices.
Features:

Excellent quality
Free from any chemical
Makes hair shiny and strong
Efficacious results
Advantages of Tulsi Nirmal Jasmine Oil
The benefits and effectiveness of oil Coconut Jasmine Oil:
It is the immensely suitable formulation for making hair lustrous and strong.
Coconut oil is deemed fit to safeguard Hair from lice, sunlight, dandruff and other problems.
Vitamin "K", "E", Iron and other minerals are found in Coconut Oil,
Contains anti-bacterial properties, therefore helps in fighting hair fall.
It is advantageous because it embodies properties to lock moisture of the Hair in them.
It has other benefits which are like improving the flow of blood to the scalp.
Jasmine Oil is also considered to be a preferred choice for scalp massage as it eases Nervous System and comforts the mind.
It is non-sticky Oil and it vitalizes the roots of the hair.
Jasmine oil is beneficial choice for itchy and dry scalp.
It rejuvenates the moisture of the hair and keeps hair healthy.
Superior Non-greasy Oil
Smooth Lingering Aroma
Lightweight oil can be applied daily
Render shine to hair on daily application
Manage flyway
Affordable in price
Ensuring healthy and strong look
Readily Available
Other Features:
Skin friendly
Improves hair growth
Anti-allergic
Good for hair nourishment
Removes Dandruff
Nourishes Your Hair
Strengthens Weak flair
Softens Rough, Dry Hair
Helpful In Sound Sleep
Shines For Thick, Thin flair
Prevents flair Breakage
How to Utilize Coconut Jasmine Oil Pouch ?
Recommended to apply oil straight to hair.
Beneficial for massaging scalp gently.
Advisable to leave oil on hair for 30 minutes, then wash it.