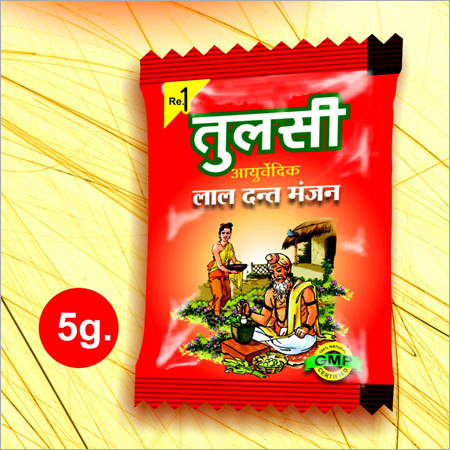 Lal Dant Manjan Tooth Powder
Product Code : LDM-05
Product Description
Owing vast experience as the Manufacturer, Supplier and Exporter in the domain of offering Lal Dant Manjan Tooth Powder that is known for high quality. The Offered manjan is manufactured at our hygienic and innovative units by using excellent quality natural ingredients with the help of advanced methodology under the guidance of experienced professionals. This manjan clean and strengthen tooth and cure gum diseases. Moreover, provided Lal Dant Manjan Tooth Powder is available in different packaging options as per client's specific requirement at affordable prices.

Features:

Heals and protects tooth
Leaves the tooth strong and shiny
Useful for the Health of Teeth
Beneficial in Inflammation of Teeth & Gums
Prevents Tooth Decay
Bad Breath Prevention
Long shelf life and Purity
How to Use Tulsi Ayurvedic Red Tooth Powder
Rub gently Lal Dant Manjan Powder over the teeth and other areas of mouth, get relief from any pain in teeth or gum, it's unique herb's formula gives extra freshness and comforts to our mouth.
Anti-bacterias and antiseptic formula controls bacterial growth and infection in mouth.
Attributes of Tulsi Ayurvedic Red Tooth Powder
Absolutely ayurvedic and natural tooth powder
Promising for having more grounded teeth and gums
Guaranteeing white and splendid teeth
Give compelling consideration to teeth
Arranged from regular fixings enveloping Clove oil, Karpoor, Pippali, Pudina Satwa, Tomar Beej
Effective in curing dental infirmities and tooth throb
Effective in evacuating awful breath
Effective in shielding teeth from germs
Effective in curing Gingivitis
Effective in keeping seeping from gums
Effective in guaranteeing the soundness of gum tissues
Effective in counteracting plaque and tartar
Dant Manjan vs Toothpaste
Toothpaste contains other destructive fixings which have hindering impact on the dental administration where as Dant Manjan is set up from common fixings which lay wholesome impact on dental well being and in addition help in curing different dental afflictions.
Benefits of Lal Dant Manjan

There are a number of benefits, ensured by Lal Dant Manjan

Treatment of tooth decay and cavity.
Helps in healing and treating numerous oral health problems.
It is prudent choice to put aside toothpaste and prefer to Lal Dant Manjan for taking care of complete oral health.